about us
Among its many services, ANMA promotes public awareness of the value and importance of recycling along with the positive environmental benefits derived from metals recycling.
ACTIVITIES
Meeting regularly with various govt. authorities for sorting out any regulatory issue.
Interacting with various associations all over India for promotion and protection of trade.
NEWS & EVENTS
1st World Non-Ferrous Awards in Mumbai, India on 8th Sept, 2017

MRAIs 3rd International (Indian Metals Recycling Conference)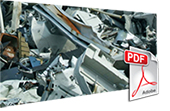 SCRAP SPECIFICATION
European Steel Scrap Specification
ISRI Copper Scrap Specifications Circular
Ferrous Scrap Specification
Creating Awareness about the Metal Recycling Trade among Members & Others